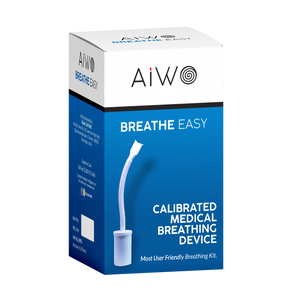 Aiwo Breath Easy
₹1,995.00

₹1,995.00

You save
---
---
AIWO Breath easy is a breathing exercise kit. The breathing training device was designed for respiratory exercises as well as for inhaling essential oils and or herbal decoctions. As a result of breathing retraining, sick people experience quick relief from their symptoms and require less and less medication.
Benefits of Aiwo Breath Easy
Respiratory Health
Breathing kit improves breathing capacity in Asthma, Wheezing and Controls Snoring.
Heart Health
Breathing exercise kit regulates Blood Pressure and it can improve your overall heart health.
Immune health
Breathing exercise kit improves Immunity and regenerate new cells in order to fight infection.
Brain Health
Breathing exercise kit improves Brain Focus and Meditation Enhancement.
Product Type

Dosage
Ingredients
Get your supplements personalised to
suit your lifestyle
Step 1

Our quiz takes less than 5 mins and will help us create a personalised plan for you.

We personalize supplements

Step 2

We only use premium, high-quality ingredients backed by honest research.

Get our experts insights

Step 3

Talk to our doctors and get a lab test to get further insights on optimal nutrition plan for you.
Frequently Asked Questions
Who should take Aiwo Breath Easy?

+

Anyone who is in the recovery phase of Bronchitis, COPD, Hypertension, Sternocardia, Vegetative Vascular Dystonia, chronic inflammatory processes in locomotor apparatus can take AIWO Breathing Kit.

Can pregnant or breastfeeding women take Aiwo Breath Easy?

+

It should be avoided in pregnant and breast-feeding women.

Are there any interactions with prescription medication?

+

Safe as it a respiratory exercise when prescribed to the right individuals.
Does Aiwo Breath Easy come with any side effects?

+

Not really, but should be avoided in those who suffer from acute somatic & infectious diseases, end stages of chronic diseases, respiratory,heart failure of II A stage, pulmonary haemorrhage, hemoptysis and in children less than 6 years of age.

How much should I ideally take?

+

Breathing exercises should be done daily as per the instructions mentioned in the leaflet provided within the box.